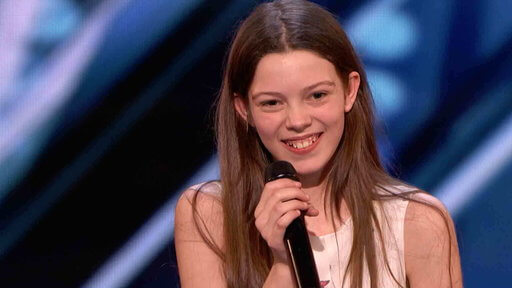 Courtney Hadwin took the stage on Tuesday's "America's Got Talent" as a bashful 13-year-old barely able to address the panelists.
She left with a "Golden Buzzer" pass to the live shows.
What happened in between was her transformation into a soulful singing dynamo that prompted judge Howie Mandel to compare her to Janis Joplin. Then he pressed the buzzer to catapult her aspirations forward.
"You are absolutely amazing. I've never seen anything like that," host Tyra Banks said of her performance.
Check out her number here:
The teen could not be considered entirely a novice, however. She was a finalist on "The Voice Kids U.K.,".
She tweeted her thanks Tuesday night.
" I didn't know what to expect when I auditioned for @AGT but the golden buzzer was more than I ever could have dreamed of. Thank you so much @howiemandel I am so happy and can't thank you enough xx pic.twitter.com/qqNKUWyzVk

— Courtney Hadwin (@CourtneyHadwin) June 13, 2018