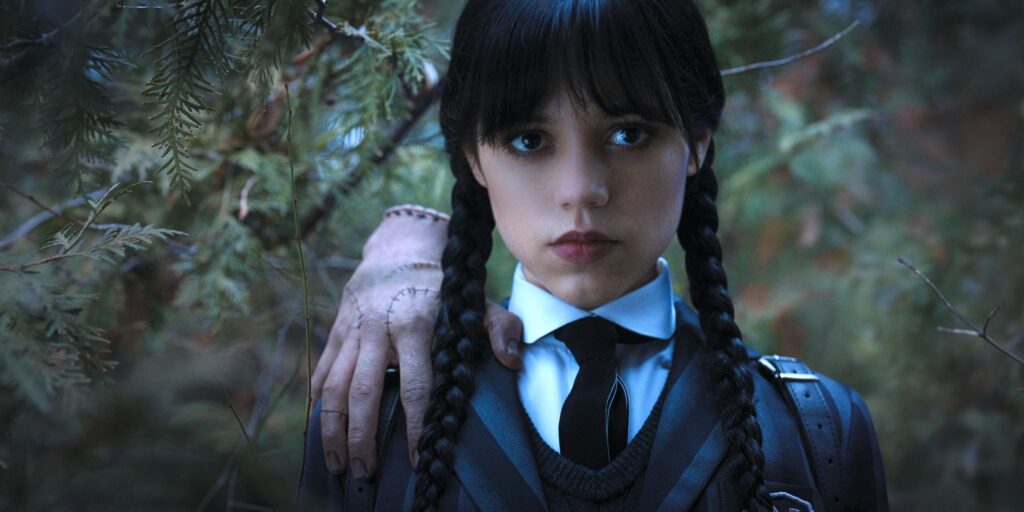 A spin-off of The Addams Family would always be welcome (at least in this broken neck of the woods), and it's no surprise that the family member who got the special treatment was eldest child, Wednesday.
Christina Ricci's chilling, charismatic turn in the Barry Sonnenfeld movies elevated the firstborn Addams to iconic status. And when the franchise went animated in 2019, Wednesday was once again the focus (this time voiced by Chloë Moretz).
Now there's a new Netflix mystery series with our favourite emo (short for 'emotionally dead inside') at the centre.
Wednesday delivers, as promised, an indulgent helping of weird and wonderful — along with some choice monochrome fashions and unforgettable dance moves — as it cracks open the mind of arguably the most mysterious Addams on her quest to find out who's maiming and killing the residents of Jericho.
Naturally, we, like Wednesday (Jenna Ortega), went mining for clues about the series' future.
Wednesday dished up a couple of twists for its finale, leaving fans to guess who that mysterious text was from, but we'll certainly need more than speculation to satisfy our curiosity. The most obvious solution is another season, but will there be one?
Here's everything we know about Wednesday season 2.
Wednesday season 2 release date: When's it back?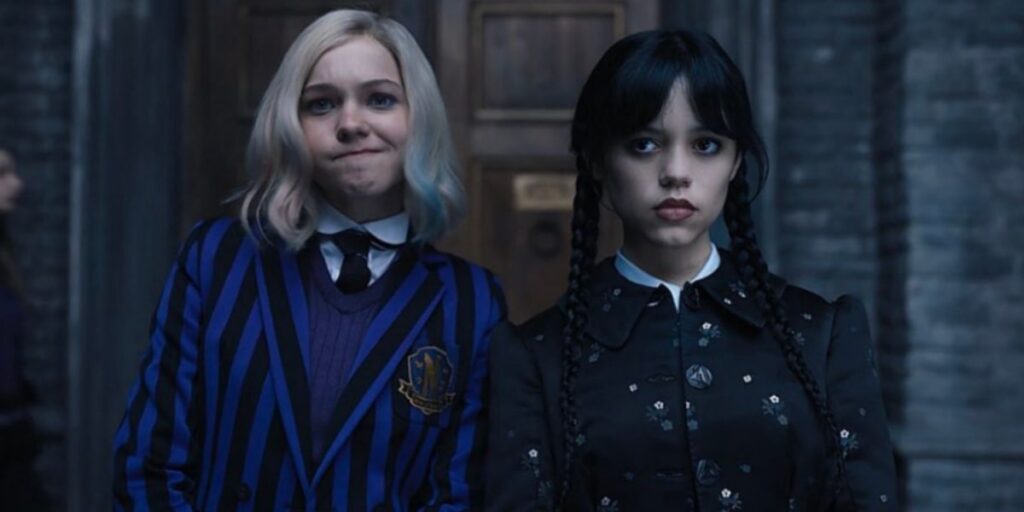 Hallelujah! After ENDLESS (10) weeks of misery, Netflix has finally officially confirmed that a second season is on the way.
On January 6, Netflix released a video in which Jenna Ortega as Wednesday says, over a montage of season 1 clips and footage of fan events, "Over the past few weeks I've been hunted, haunted, and mimicked millions of times across the internet. It's been pure torture. Thank you."
To the tune of Lady Gaga's 'Bloody Mary' (the dub that TikTok's Wednesday obsessives have preferred to use in their dance tributes, over the original 'Goo Goo Muck' by The Cramps), Netflix announced: "More misery is coming. The global phenomenon will return for season two."
That's it — no date, no details, just the commission. But it's fine, we can work with that.
In an interview with Netflix's TUDUM, Wednesday co-creator Miles Millar said: "It's been incredible to create a show that has connected with people across the world. Thrilled to continue Wednesday's tortuous journey into season two. We can't wait to dive head first into another season and explore the kooky spooky world of Nevermore. Just need to make sure Wednesday hasn't emptied the pool first."
"It's encouraging and exciting to see how much engagement there is," Netflix's Head of US & Canada scripted series Peter Friedlander told Variety in December.
"How much people want to not only come to Netflix, but to finish these shows and then talk about them. Engagement. That's what we're pouring all of our efforts into."
He continued: "It's not just the dance, it's people dressing up and buying makeup and wanting to look like Wednesday Addams. The resurgence, for me, it's something that's been in the culture for a long time — but never this pronounced. It's something that we want to study and understand why this is such a phenomenon."
There was a great deal of speculation about where Wednesday season 2 might land. Industry rumour suggested that the second outing might not be on Netflix but rather on Prime Video following Amazon's merger with Metro-Goldwyn-Mayer (MGM), the production company that makes Wednesday for Netflix. But we now know that was nonsense, like we said at the time.
Wednesday season 2 cast: Who will be coming back?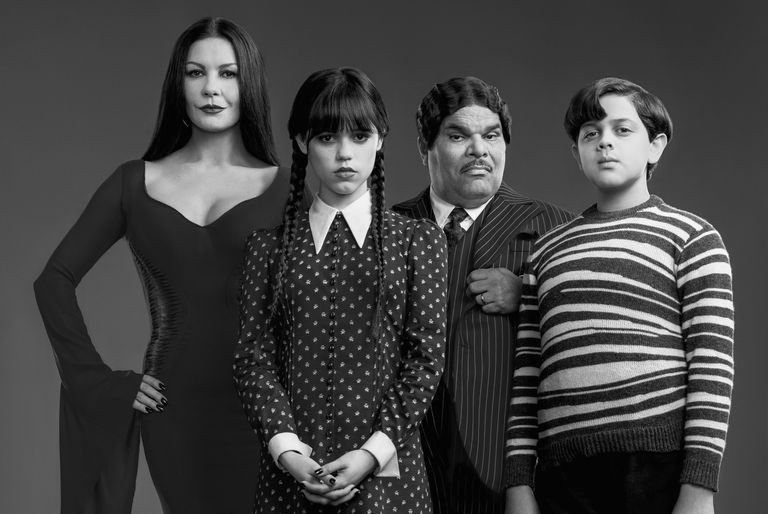 It is unfathomable to not have Wednesday and her right-hand hand Thing return for a season 2, so we hope that Ortega (and Thing hand Victor Dorobant) will be keen to reprise their roles.
Wednesday's almost-love-interest Xavier Thorpe, played by Percy Hynes White, is bound to join season 2 as well. Rebuffed but not forgotten, the poor dude may actually have a shot now that Tyler is out of the picture.
Or is he? When we last saw Wednesday's sort-of-boyfriend-turned-villain, he was detained, but something tells us that the guttural growl he emitted at the end of season 1 could lead to a breakout. If that's the case, then we fully expect to see Hunter Doohan jump back into his Hyde skin for season 2.
We suspect the following will round out the Wednesday season 2 cast:
• Emma Myers as Enid Sinclair
• Joy Sunday as Bianca Barclay
• George Farmer as Ajax Pertroplus
• Naomi J Ogawa as Yoko Tanaka
• Jamie McShane as Sheriff Donovan Galpin
• Luis Guzmán as Gomaz Addams
• Catherine Zeta-Jones as Morticia Addams
• Isaac Ordonez as Pugsley Addams
• Fred Armisen as Uncle Fester
Christina Ricci's oily Ms Thornhill could make a possible return, as she didn't quite succeed in her ambitions during season 1 (more on that below).
Gwendoline Christie's Larissa Weems may have bitten the big one, but there was something a little ambiguous about her death. It's possible she could return. After all, resurrections are a thing in this world, and her story arch did seem somewhat cut short.
That said, The Sandman (in which Christie also stars) has been renewed for a season 2, so there could be possible schedule conflicts. Fingers crossed this isn't the case, as Christie is addictively good as both Lucifer and Weems, and we must have both!
On the other hand, poor Doctor Kinbott's fate was not so ambiguous. Slashed and gashed, Riki Lindhome's character is unlikely to have survived the Hyde attack and thus will probably not be back for season 2.
Wednesday season 2 plot: What will happen?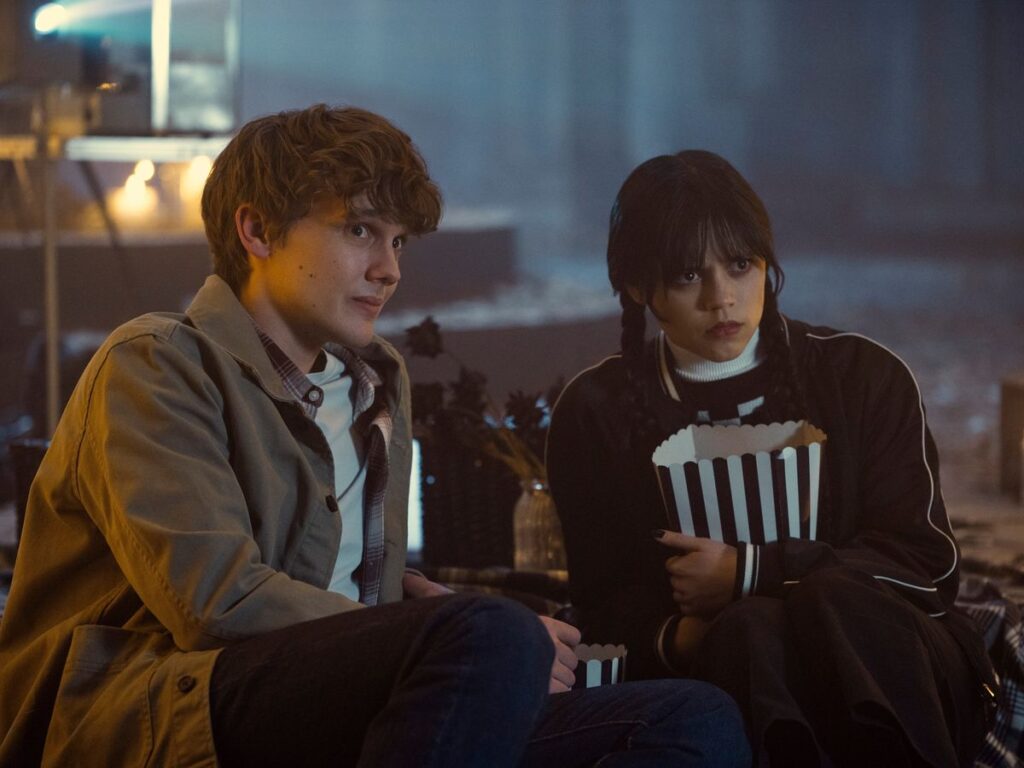 We mentioned loose strings, and, boy, were they left flapping in the breeze. Wednesday's discovery that her boyfriend was the monster terrorising Nevermore is the kind of heartbreak she didn't seem to revel in, despite her penchant for pain. As a double dose of betrayal, he was being controlled by teacher favourite Ms Thornhill, who turned out to be a bitter normie who had an axe to grind with the outcasts.
We doubt that Tyler will continue to be Ms Thornhill's controlled 'pet', but we're almost certain he escaped — and even more sure that he'll resurface in Wednesday's life. As friend, lover, or foe, though, is yet to be determined.
However, Tyler actor Hunter Doohan certainly has his theories on the fate of his character. Speaking to Digital Spy in an exclusive interview, Doohan said he was certain his troubled Tyler managed to evade the clutches of the law.
"I do think he escaped at the end. When I read that on the page, I was so excited. I was like: 'Come on, don't be dead, don't be dead'," he said.
When it comes to which version of Tyler (good or bad), we could see in season 2, Doohan's remark about his season 1 arc does shed some light.
"I think he was being controlled by Miss Thornhill," said Doohan. "Then he had to go manipulate Wednesday to carry out their plan, and I think he did a pretty good job with it."
If he was indeed being manipulated, it could mean that redemption is on the cards for him — that is, if he can shake Ms Thornhill's hold.
There could be other villains worth keeping an eye on, however.
A few times, the show name-dropped the ominous presence of the Morning Songs, a cult-like group run by Bianca's siren mother, capable of luring in new members. Bianca's mother coerced her into agreeing to join them in order to strengthen their persuasive call.
There's surely room and scope to elevate the Morning Songs to main villain status in Wednesday season 2. Watch this space.
One thing that definitely needs clearing up is the mystery texter. Not long after Xavier gifts Wednesday a brand-new phone, she receives a cryptic, threatening text message complete with stalker-y photos of herself.
The sender? Well, that's unknown, but it's just the kind of danger that's sure to light Wednesday's soul on fire. It's also something that will certainly help set the wheels of a season 2 story in motion.